Awards and recognition
December 2021 - CSR Impact Awards (7th Edition) - CWAS - HSBC partnership receives recognition under WASH category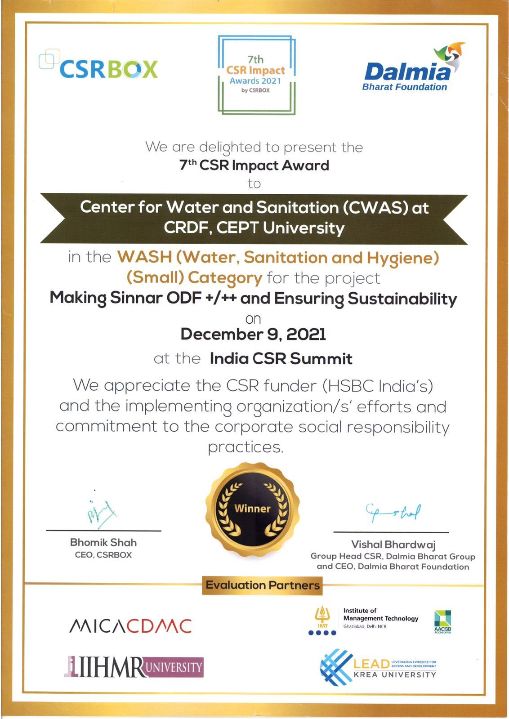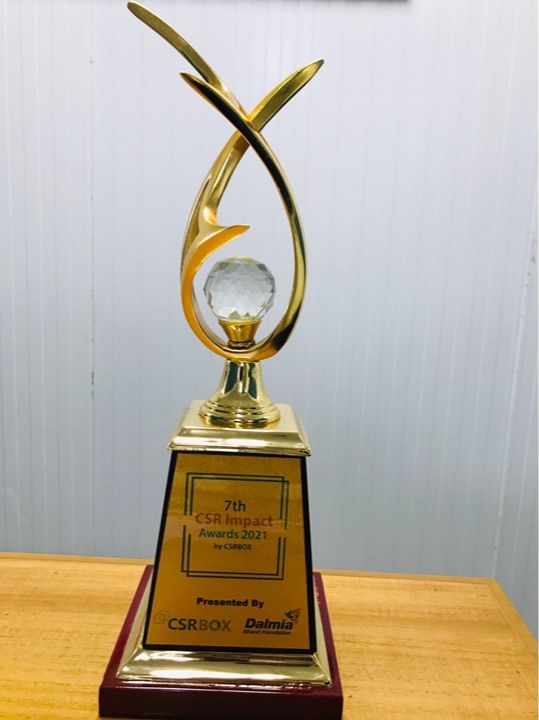 The CSR Impact Awards is an initiative of CSRBOX with support from Dalmia Bharat Foundation . These awards aim to encourage companies, CSR foundations and CSR implementing agencies to deliver high impact through CSR projects. For the 7 th CSR impact awards, Center for Water and Sanitation (CWAS) received award under the WASH (Water, Sanitation and Hygiene) (small project) category for its project "Making Sinnar ODF+ and ensuring sustainability" supported by HSBC.
The Evaluation partners for this award were MICA-CDMC (formerly known as Mudra Institute of Communications, Ahmedabad), Institute of Management Technology, Ghaziabad (IMTG), LEAD at Krea University and IIHMR University. The overall approach and outcomes of the project on institutional sustainability and inclusion were well appreciated by the jury members.
February 2021 - PAS Project appreciated at FICCI Water Awards
CWAS's Performance Assessment System (PAS) for Urban Water Supply and Sanitation in India was recognized by the Federation of Indian Chambers of Commerce & Industry (FICCI) during the 8th edition of FICCI Water Awards on 16th February 2021. CWAS received a "Certificate of Appreciation" in recognition of the project.
March 2020 – Dr. Meera Mehta recognized as Swachhta Hero by MoHUA under Swachh Bharat Mission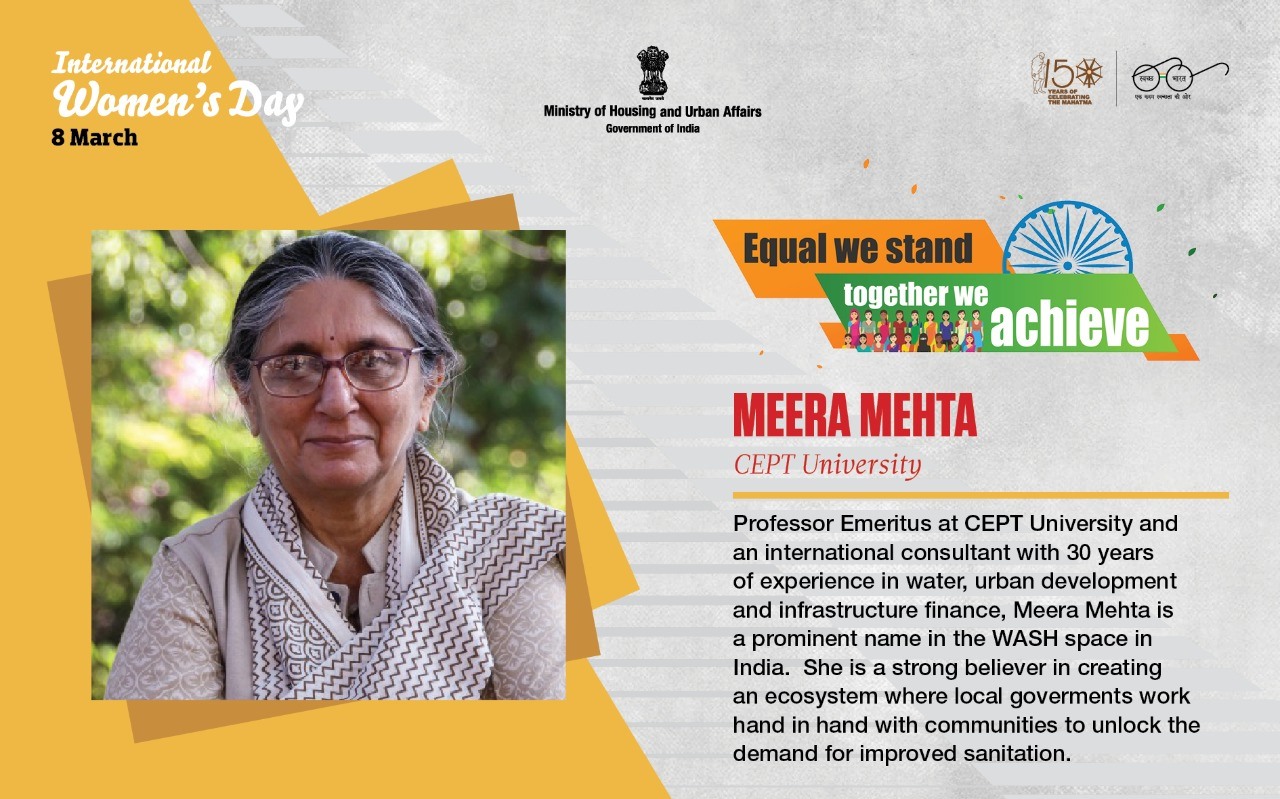 March 2019 - Recognition from Sinnar Municipal council for CWAS support in improving Sanitation in Sinnar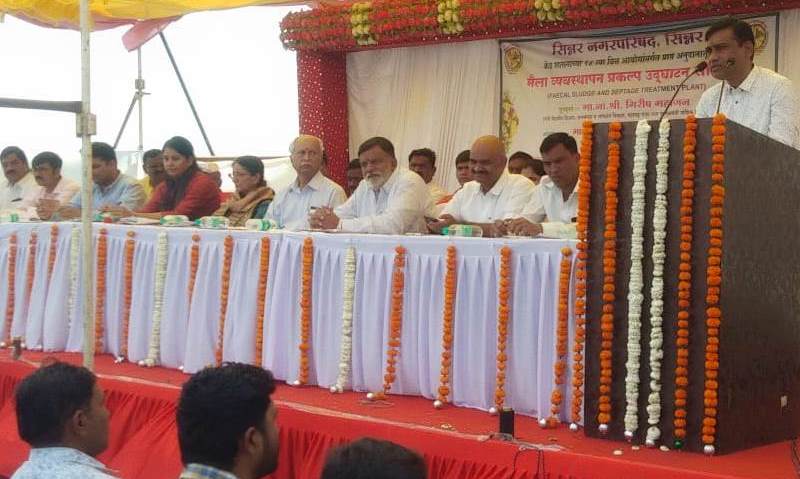 On 3rd of March, 2019, the city of Sinnar inaugurated its newly constructed FSTP and moved one step closer to becoming ODF++. Along with this the city began scheduled emptying operations for septic tanks in the city and also inaugurated school toilets for children. CWAS has been a long term partner to Sinnar Municipal Council for designing and implementing the city's sanitation programme. For this support, CWAS team was felicitated by the Municipal Council at the FSTP inauguration event.
April 2018 - Recognition from ISC- FICCI for "Best Non-Profit Engagement" for City and State level sanitation work
The ISC-FICCI Sanitation Awards recognise excellence in sustainable sanitation. In this year's edition, the C-WAS team from CEPT received an award for "Best Non-Profit Engagement Model in Sanitation" at a ceremony held on April 27, 2017 at FICCI in New Delhi. The award was given to CEPT by Hon. Minister of Housing and Urban Development, Government of India. The award was in recognition of C-WAS work in supporting the cities in Maharashtra in becoming ODF and moving towards ODF+. This work has been done under projects supported by grants from BMGF and HSBC.
October 2017 – CWAS team felicitated for its contribution to Swachh Maharashtra Mission
On October 1st 2017, all 384 urban local bodies of Maharashtra were declared ODF. At an event organized by Government of Maharashtra, the Hon. President of India, Shri Ram Nath Kovind felicitated CEPT team that has been supporting the Swacch Maharashtra Urban Mission for the past two years. Professors Meera Mehta and Dinesh Mehta received the felicitation on behalf of CEPT. The Hon Governor of Maharashtra, Shri C.V Rao and the Hon Chief Minister of Maharashtra, Mr Devendra Fadnavis released a booklet outlining the journey of making urban Maharashtra ODF. CEPT and its partner AIILSG supported preparation of this booklet.
Recognition by IWA for International Development Award to Dinesh Mehta: For Research in 2013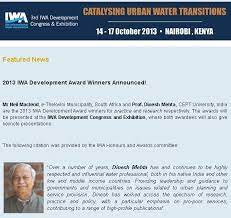 9th Edition of FICCI Water Award in "Urban Wastewater Management" for work in Sinnar in 2021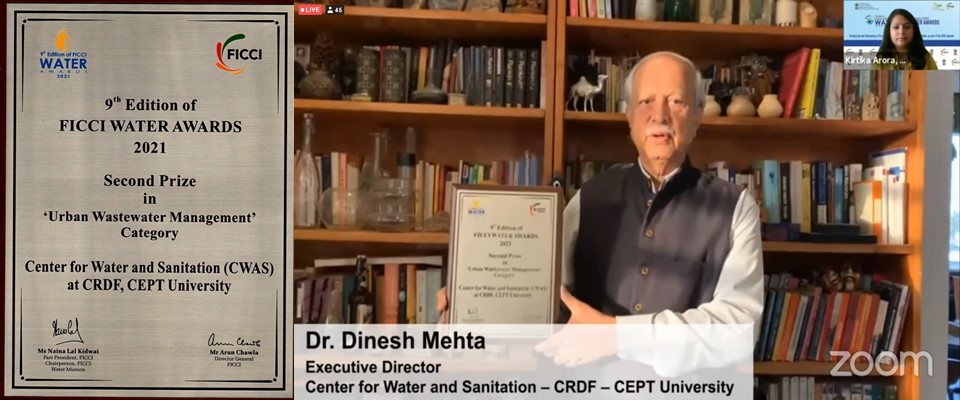 The FICCI Water Awards recognize excellence in water conservation and sustainable water management practices. The 9th edition of the awards were conferred during the India Industry Water Conclave organized by FICCI during 2nd and 3rd March 2022. CWAS was awarded in the in the Urban Wastewater Management category for work in Wai and Sinnar cities where CWAS has been supporting the municipal Governments and actively working on projects since 2013.
Award winning case studies have been compiled into a Compendium of Best Practices which exemplify water use efficiency and sustainable water management.
Asian Venture Philanthropy Network, Singapore, AVPN Constellations Award in "Climate Action" for work in Wai and Sinnar in 2022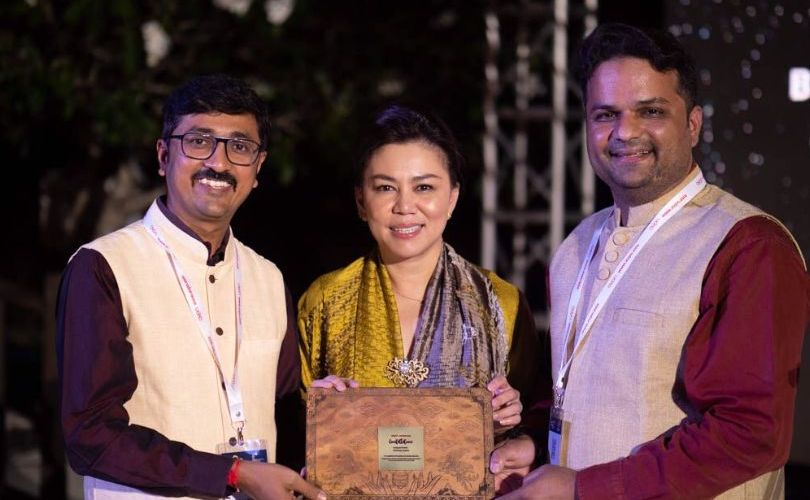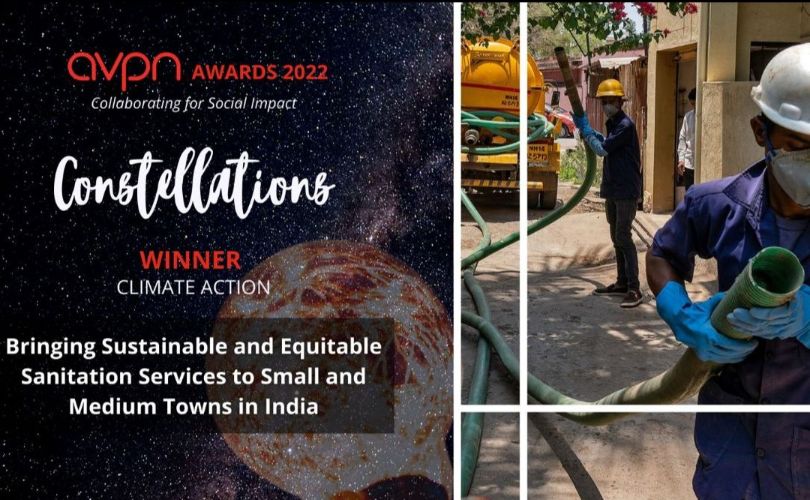 CWAS received the AVPN Constellation award in Climate Action category at the AVPN Global Conference, the world's largest networking event for Social Investors in Asia. The Asian Venture Philanthropy Network (AVPN) consists of 600+ members from across 33 countries working in the social sector in Asia. The award was conferred for CWAS's work on faecal sludge and septage management in the cities of Wai and Sinnar. The work was supported by BMGF and FCDO (formerly DfID).

Membership of National and International Committees
CWAS is a part of the NFSSM Alliance, and leads the task force on ULB-Strengthening
Meera Mehta - Member of the Advisory Board of the USAID funded global program on Urban WASH, by Tetra Tech, USA (since 2022)
Dinesh Mehta – Member of Expert Committee regarding second phase of Waste to Energy (WTE) Project at Deonar Dumping Ground (DDG) in Mumbai (2022)
Meera Mehta - Member International Advisory Board for Water Security Hub, University of Cranfield (from 2019)
Meera Mehta - Member of CPHEEO's national expert committee (2019)
CWAS was a member of a group for drafting National NFSSM policy (2017)
Dinesh Mehta - Chair of IWA Specialist Group on 'Sanitation and Water Management in Developing Countries' (since 2019)
Meera Mehta - Member of working group for WHO-UNICEF Post 2015 Global deliberations on Equity in Water and Sanitation (2016)
Meera Mehta - Editor of IWA's International WASH Development Journal (from 2015)